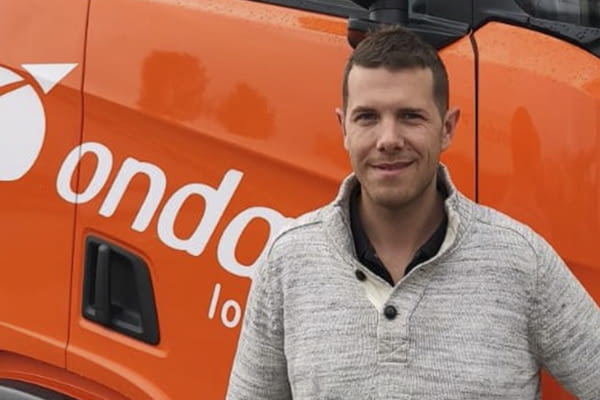 "Really satisfied with the outcome", immediately answers when asked how he value the experience to working with Liquefied
Natural Gas vehicles.
- Genís, could you summarize us the story of Ondara Logística with LNG?
February of 2019 was the beginning of our adventure with LNG vehicles, when we were offered the chance to test one truck for four weeks. We proceed to incorporate the new vehicle to our groupage import/export lanes within EU. After 4 weeks, we received very good reports by the driver, and we could deduce greatly satisfying results regarding the vehicle profitability and competitivity in terms of total consumption for each km made.

Though, it allowed us to detect some weak spots such as the limited net of service stations all around Europe, plus the lower range of the vehicle in comparison with the rest of our diesel fleet.

During October 2019, Ondara decided to add the first LNG truck to our fleet to be used for a regular lane within Spain for one of our food producing client. Being this one a fix lane, boost a closer supervision for the km done by the vehicle, as well as for the stops and service stations where to fill the fuel tank.

It has been 8 months since we introduced the LNG on a regular basis in our fleet and the result has been highly positive so far, up to the point that the company has a new project to expand our fleet with this type of vehicle.
- Currently, which lanes are you driving?
We are doing 2 weekly transports from Catalonia to Andalucía back and forth with the same loading/delivery places.
-
How many km does your LNG truck drive?

About 13.000 km/month
- What consumption does the vehicle achieve?

Around 30% less than a diesel truck.
- As the fleet manager, which is your conclusion and repercussion do you get about this fuel concerning the road transport?
I do believe that is the perfect vehicle for fix lanes that could allow to do at least 12.000 km every month within the Spanish area, because there is a wider network of fuel stations, as well as having lower fuel prices, compared with other EU countries average.
Outside of these factors, considering Ondara Logistica working system, the purchasing overrun compared with the diesel trucks cannot be compensated during the following 3 operative years that have our fleet.
- Which pros and cons can you see versus diesel?
There is a big significant reduction concerning the fuel expense, because apart from lower consume, the adblue is erased. Environmental sustainability is exponentially much higher due to its low CO2 emissions and the cost of maintenance is also more sustained than in diesels.

However, these are vehicles with a lower range with a reduce network of fuel stations, that require a initial higher economic investment and with very few manufacturers offering them.
- What future do you foresee with fuel in the transport of goods by road?
I think that is a type of vehicle with a lot of potential if the operation of the transport companies allows to express its virtues.

I also see a very good alternative when it comes to meeting the growing number of requirements that major European cities are imposing on carriers to reduce pollution.